Renting a Car? Explore Your Insurance Options
If you're looking forward to an outing or vacation that includes an automobile rental, don't wait until the moment you're signing a rental agreement to think about your insurance situation. With some advance research, you might avoid paying for duplicate coverage or facing a hefty bill in the event of an accident.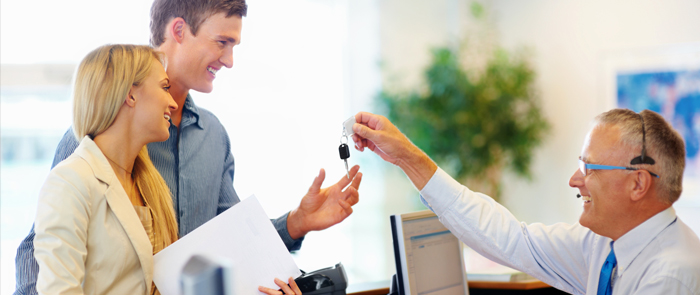 Review Your Personal Coverage
If you have auto insurance or are covered as a driver on someone else's policy (such as a parent's policy), the personal auto coverage and deductibles will typically extend to a rented or borrowed vehicle — as long as it is not used for business. (Check with your insurer or employer about rules for business use.)
Drivers who don't have collision or comprehensive coverage could be held financially responsible if a rental car is stolen or damaged. Moreover, personal auto insurance may not pay for the rental company's loss of use while a damaged vehicle is in the shop for repairs.
Before you rent, you may want to call your insurance agent and discuss whether your existing policy is sufficient. If it's not, you might be able to add a rider that may be more affordable than the rental company's options.
If you're going on a long trip or renting a car in another country, be sure to ask your agent whether any limitations might apply to your situation, and take a copy of your insurance policy in case you need it. (Some rental companies may want proof of existing coverage.)
Compare Credit Card Benefits
Many credit cards provide some collision or theft protection when the card is used to pay for the automobile rental. There may be limitations, however, and the claims are typically secondary to your personal auto policy or coverage purchased from the rental agency. If so, the credit card company might pay only your deductible or provide other limited compensation after other forms of coverage have paid the claim. Remember that credit cards may cover damage to the rental car but not for other cars damaged (or drivers hurt) in an accident. However, this would typically be covered under your personal liability insurance, up to policy limits.
Prior to booking a rental, call the credit card company's customer service department and ask about the benefits that would be offered if you paid with that particular card. If the company offers primary (as opposed to secondary) rental car coverage and you are involved in an accident, you might not have to file a damage or theft claim with your personal insurance company — which may avoid having your premiums increased. If you have more than one credit card account, it might be helpful to compare them and use the card with the most generous coverage features. Note that credit card companies typically require that you decline the rental car company's collision damage waiver or loss damage waiver (see below) in order to receive coverage under the card.
Rental Counter Decisions
Traditional rental companies generally offer four types of standard insurance protection, although specific options and associated costs vary by state and company. You may be asked to accept or decline the various options as they are presented in the rental agreement. When making decisions regarding these options, consider your personal coverage and any coverage offered by the credit card that you use for the rental.
Collision damage waiver (CDW) or loss damage waiver (LDW). A CDW typically relieves the renter of any financial responsibility if a vehicle is damaged in an accident. A LDW covers accidents, as well as other possible damages and theft. Rental car companies tend to use these terms interchangeably, so be sure to read the terms carefully. These waivers may include fees charged for loss of use, towing, and administration. However, they might be voided if an accident is the result of speeding, driving while intoxicated, or driving on unpaved roads. Paying extra for a waiver may be unnecessary if you already have comprehensive and collision coverage on your own automobile.
Liability. Most states require rental companies to include a minimum level of liability coverage, but these amounts don't offer much financial protection. If you already have sufficient liability protection with your personal auto policy — or have an additional umbrella policy — you may not need to purchase any upgrade offered by the rental agency.
Personal accident insurance. This coverage provides medical coverage for the renter and his or her passengers. Again, you may not need this coverage from the rental agency if you have enough health insurance coverage and/or personal injury protection with your existing auto policy.
Personal effects coverage. This type of protection will reimburse you for the theft of personal belongings from your rented automobile. Be aware that your homeowners or renters insurance policy may already include coverage for items stolen outside of your home, minus the deductible.
Alternative Services
Car-sharing services and peer-to-peer rentals are becoming increasingly popular. These companies do not offer standardized coverage, so it's especially important to read all insurance information on the company's website and contact the customer service department if you have questions. You might also want to discuss coverage with your personal auto insurer.
Car-sharing programs charge a monthly or annual membership fee to provide access to a vehicle. Some services include insurance costs in the fee. However, if a car is stolen or involved in a collision, the member may be liable for a dollar amount specified in the membership agreement, with a waiver of this amount available for an additional fee. Renters under age 21 might receive more limited coverage with the membership. If so, check to see whether coverage under a parent's policy will supplement the difference.
Peer-to-peer rental services allow consumers to rent cars from other individuals. Insurance coverage varies widely among these services, and you may be able to decline coverage. Be sure you understand what insurance, if any, is available without additional fees, and make sure you have appropriate coverage under your personal policy before declining coverage.
Non-Owner Auto Insurance
Some people living in big cities with access to public transportation prefer not to own cars, but they still may need to drive on occasion. Drivers who rent or borrow cars frequently, or belong to a car-sharing service, may find that purchasing their own non-owner insurance is cheaper than buying the liability policy from a rental car company. Non-owner policies offer liability coverage only. This covers the other driver's car and injuries, but not your own, when you are at fault.
Investigating which coverage benefits are included with your existing insurance policies and credit card accounts prior to booking your rental could save you a significant amount of money and help you avoid surprises while traveling. Keep in mind that policy limits apply to all insurance coverage.