Printed from: www.kadrieinsurance.com
Two Big Reasons to Focus on Fire Safety
Wildfires make for dramatic news coverage, and more than 68,000 fires burned a record-setting 10,125,149 acres in 2015.1 Even so, isolated structure fires affect many more U.S. homeowners every year, despite the fact that these fires are often preventable. According to the U.S. Fire Administration, there were 379,500 residential fires that caused 12,075 injuries, 2,765 deaths, and upwards of $6.9 billion in damage in 2014 (the most recent year for which data is available).2
Hopefully, these troubling statistics will serve as a reminder to identify and address any potential fire risks that may be present in and around your home, and to discuss fire safety precautions with your family.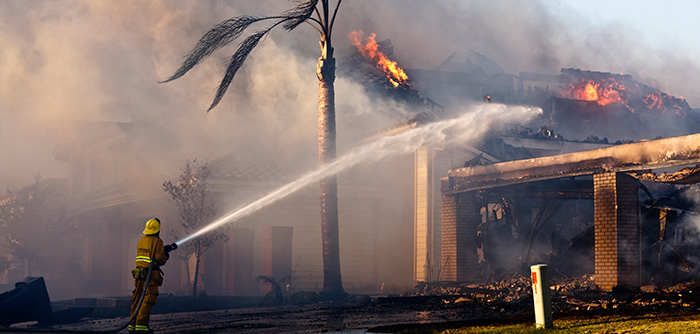 Wildfire Risk
Wildfire risks are present in 38 states, but California, Texas, Colorado, Washington, Idaho, Oregon, Arizona, Utah, New Mexico, and Nevada are the most vulnerable. A 2015 study concluded that about 900,000 residential properties across 13 states in the western U.S. are currently at high or very high risk of wildfire damage.3
Wildfire danger does not end with the hot summer months, especially in drought-stricken areas. Southern California is often most vulnerable in the fall, when whipping Santa Ana winds can drive fast-moving fires toward highly populated communities. Three of the costliest fires in U.S. history hit California in October of 1991, 2003, and 2007.4
Do you live in a rural community or at the edge of a wilderness area that could find itself in the path of a raging wildfire? Keep in mind that properties deemed to be at higher risk may be subject to higher insurance rates.
When a home ignites, it is often because of embers blown by the wind. Here are some steps you can take to help protect your home and property.
Create a defensible space (free of trees and shrubs that could catch fire easily) around the outside of your home.

Box or screen eaves, vents, and soffits to keep embers from getting caught inside.

Install fire-resistant roofing and/or siding material.
Home Fire Threat
You may be able to avoid physical danger and loss of property by learning about the activities and conditions that frequently spark residential fires. Cooking is by far the leading cause of home fires, followed by mishaps with heat sources such as fireplaces, wood stoves, and space heaters. Electrical problems and smoldering cigarettes are also among the top reasons why homes catch on fire.5
It takes only a few minutes for a small flame to grow into a major fire. Smoke alarms can help alert residents quickly and potentially save lives, and residential sprinkler systems may actually extinguish flames, giving occupants more time to escape. Test your smoke alarms every month and replace the batteries at least annually to help ensure they will work if needed.
Form an escape plan and review it with everyone who lives in your home. Make sure everyone knows to leave the home immediately if there is a fire, and never to go back inside a burning building. Identify two ways out of every room; a collapsible ladder could prove helpful if you have second-story bedrooms. Designate a meeting place located a safe distance from the house.
Review Your Insurance
Fortunately, damage caused by fire and smoke, or from firefighters putting out a fire, is generally covered under standard homeowners and renters policies. Your policy may also pay extra living expenses while your home is being repaired or rebuilt, within policy limits.
Your home and belongings should be insured for their full replacement cost. If you are underinsured, it could prove difficult or impossible to rebuild a structure or replace your lost belongings at current market prices.
Regardless of where you live, fire is an ever-present threat that you can't afford to ignore. Having adequate insurance coverage could help protect your family from the financial hardship that might otherwise follow the sudden loss of a home.
1, 3–4) Insurance Information Institute, 2016
2, 5) U.S. Fire Administration, 2016
The information in this article is not intended as tax or legal advice, and it may not be relied on for the purpose of avoiding any federal tax penalties. You are encouraged to seek tax or legal advice from an independent professional advisor. The content is derived from sources believed to be accurate. Neither the information presented nor any opinion expressed constitutes a solicitation for the purchase or sale of any security. This material was written and prepared by Emerald. Copyright 2016 Emerald Connect, LLC.