Printed from: www.kadrieinsurance.com
Spread Holiday Cheer with Safety in Mind
Family, friends, food, and festivities are just a few of the reasons why we look forward to the winter holidays, but some cherished holiday traditions could expose homeowners to a higher level of risk.
For example, holiday decorations are partly responsible for an uptick of dangerous home fires in December.1 And if you're expecting houseguests or planning a holiday party, you could be found liable for damages if someone is accidently injured on your property or if you serve alcohol.2
Taking the following precautions could help reduce the risk of these dangers without avoiding holiday activities that can make the season merry and bright.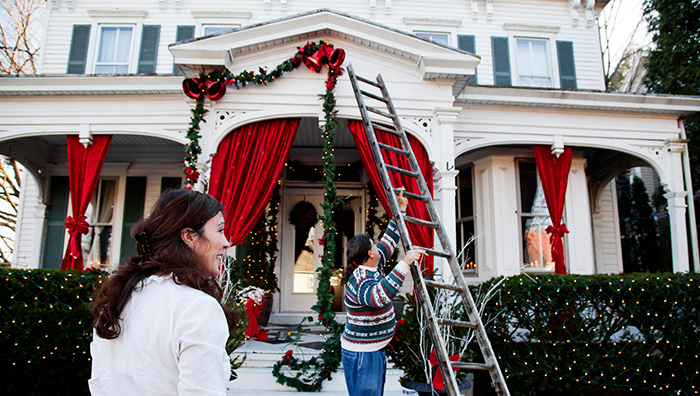 Deck the Halls, Carefully
You want your home to be welcoming and showcase your style, of course. But you also want it to be safe for your family and guests.
Make sure that your walkways and porch have adequate lighting and are clear of ice and snow. Salt icy areas before guests arrive. Repair stairs and handrails if necessary.

Verify that you have working smoke alarms with fresh batteries on every level of your home. If you bring a natural Christmas tree into your home, make sure it's as fresh as possible to begin with and keep it well watered throughout the holiday season. Use only nonflammable or flame-retardant decorations and keep them away from all sources of heat or flames, including fireplaces, heating vents, and candles.

Place candles away from flammable materials and in a stable position where they will not be knocked over. Never go to bed or leave home with candles still burning. Consider using battery-operated flameless candles.

When hanging holiday decorations, use a sturdy ladder and make sure it is on level ground. Have someone act as a spotter and help to stabilize it, and never stand on a higher rung than is recommended by the ladder manufacturer. And stay off the roof — it may be safe for Santa but it's risky for the rest of us.

When installing lights, carefully check the strands to verify that wires and sockets are in good condition, and pay attention to the manufacturers' instructions. Unplug lights before going to bed or leaving home.
Don't Let Guests Drink and Drive
If you serve alcohol at a holiday party, take steps to moderate your guests' drinking and yours, too. Here are some ideas to consider:
Serve food, which helps people absorb alcohol, and have plenty of water and nonalcoholic drinks available.

Never encourage guests to drink, and politely ask them to stop if they appear to be inebriated. Never serve alcohol to minors.

Stop serving alcohol an hour or two before the end of the party to give your guests time to process the alcohol before they drive. Offer to call a transportation service or arrange for another driver if it seems unsafe for a guest to drive. If other transportation is not available, allow an inebriated guest to sleep at your home.
Review Your Insurance Coverage
Check your homeowners or renters policy to make sure you have sufficient liability coverage if a guest is somehow injured and decides to sue for damages. If you entertain frequently, an umbrella policy with additional liability coverage may also be appropriate, especially if you have significant financial assets to protect.
1) National Fire Protection Association, 2016
2) Insurance Information Institute, 2015
The information in this article is not intended as tax or legal advice, and it may not be relied on for the purpose of avoiding any federal tax penalties. You are encouraged to seek tax or legal advice from an independent professional advisor. The content is derived from sources believed to be accurate. Neither the information presented nor any opinion expressed constitutes a solicitation for the purchase or sale of any security. This material was written and prepared by Broadridge Advisor Solutions. Copyright 2016 Broadridge Investor Communication Solutions, Inc.